Newfoundland, Sea Kayaking, Kayaking, Icebergs, Hiking & Whale Watching Tours
Newfoundland Information
Please Email by Clicking Here With Any Questions
Please call your email: "newfoundland vacation" so that we can pick you out from the spam. Thanks.
Email

CoastalSafari@
CoastalSafari.com
OR CALL US TOLL FREE AT
1-877-888-3020
709-579-3977
Mailing Address
Coastal Safari
50 Monkstown Rd.
St. John's, Nfld. Canada. A1C 3T3



If you visit the Witless Bay Ecological Reserve we can recommend
the Whalewatcher B&B
where you can see puffins whales and icebergs from your bedroom window!

Welcome to Newfoundland Coastal Safari
TWO UNFORGETABLE NEWFOUNDLAND WILDERNESS ADVENTURES

Coastal Safari

Coastal Safari an 8-day tour begining and ending in St. John's. All inclusive tour includes two nights four-star B&Bs, meals and transportation. Five days at the Coastal Safari camp where you live with the rhythm of sun, moon and tides, kayaking, hiking, fishing and exploring the wilderness. Our gourmet cuisine features seafood harvested onsite – don't forget the wine and hot showers!
For more details click here at Coastal Safari.
Fortune Bay Explorer

A 5-day sojourn at Coastal Safari camp designed to be incorporated into your self drive vacation plan for Newfoundland. You only bring bring your personal gear. We can give you lots of ideas for your self drive itinerary. To learn more click here at Fortune Bay Explorer .

We operate Newfoundland's only luxury wilderness adventure safari tent camp. Escape the mainstream car/drive itinerary and travel with us to a wilderness camp beyond roads, cell phones, blackberries and stress. Enjoy hiking, sea kayaking, fishing and wildlife watching while you spend a week living amongst caribou, eagles, whales, icebergs, and orchids.

Intrigued? Contact us for more details at: coastalsafari@coastalsafari.com or better yet, call and leave a message at 1-877-888-3020 and we'll get back to you promptly!
We provide licensed guides and expert interpretation during your all-inclusive adventure. Enjoy hiking, sea kayaking, fishing and wildlife watching while you spend a week living amongst caribou, eagles, whales, icebergs, and orchids.

Our gourmet cuisine features seafood harvested onsite – by you! – and don't forget the wine and hot showers! We specialize in small groups in order to accommodate individual interests and capabilities. Coastal Safari is ideal for independent travelers.



x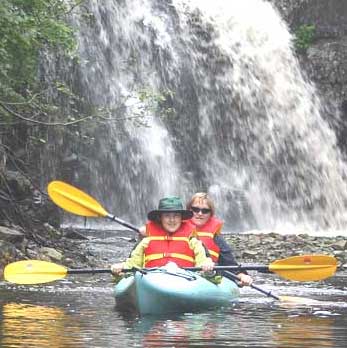 Our food features stylish wilderness gourmet dining, including complimentary wine with dinner. The theme is a Mediterranean-style diet accented with Japanese and Chinese influences and alternated with traditional wholesome North American 'home cooked' meals .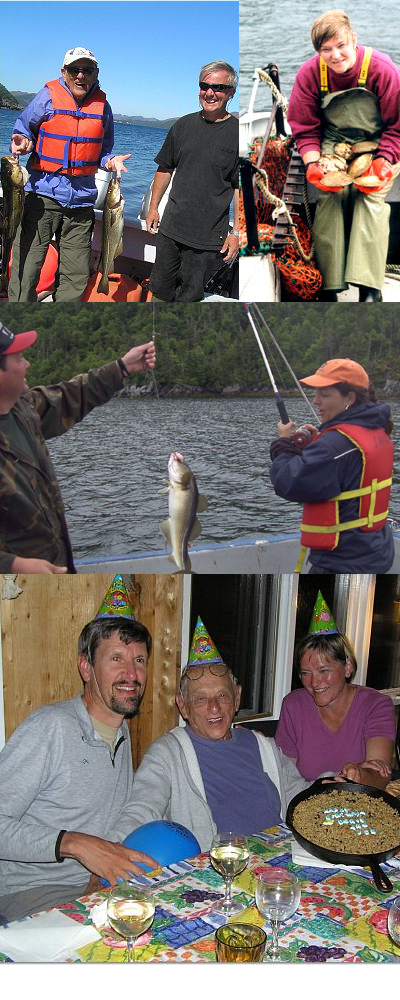 We leave it up to you to catch the fish and we'll even make you a birthday cake!

Our culinary specialty is seafood featuring cod, mackerel, scallops and mussels. Paella is a favorite entree. Mackerel sashimi, sushi and mussels are popular hors d'oeuvres but we also have a variety of cheese, crackers and other nutritious snacks. We choose our ingredients with care: organic whole wheat flour, cold pressed extra virgin olive oil, or corn oil, Canadian maple syrup, basmati rice, fresh vegetables and fruit, a variety of fruit juices, herbal teas, wholesome trail snacks, cheeses, local blueberry and partridge berry toppings for desserts, and much more! We can accommodate dietary restrictions with advance notice.

Our aim is to provide you with adventurous days, great food and relaxing, restful nights at Coastal Safari Camp. As you immerse yourself in this 'hands-on' adventure, our experienced, interpretive guides provide you with an understanding of the natural and cultural history of this remote island wilderness and the unique people who settled here.

The Coastal Safari Camp is on Tickle Beach situated inside a sheltered 12-mile fiord in Fortune Bay. We provide all boat transportation, accommodation, meals, as well as all camping, fishing, and kayaking gear. We are well equipped for all the challenges of the coastal wilderness with our 36-foot schooner 'Anna's Dream', our speedboat as the camp runabout and our fleet of kayaks, as well as the Beach House that provides comfort and ambiance to every tour. All you bring is your own personal gear, we take care of the rest!


Our trips to the Coastal Safari Camp leave from
Harbour Mille
a traditional Newfoundland outport.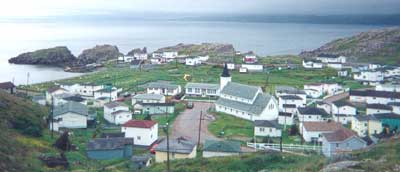 .
On the journey across Fortune Bay you can expect to see puffins, gannets, shearwaters, murres, bald eagles, ospreys, as well as whales, porpoises and dolphins.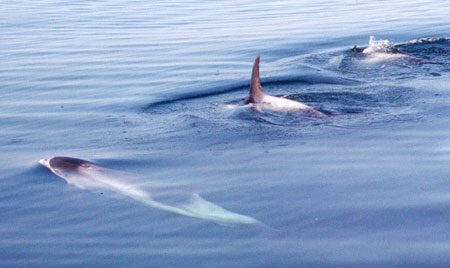 We find the dolphins are especially interesting because they are interested in us and usually come over to check us out. Later in the summer expect to see migrants from tropical waters such as bluefin tuna and giant sunfish .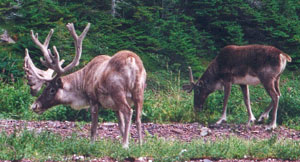 Caribou are a common sight around the Coastal Safari camp.

The area around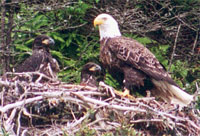 the Coastal Safari camp is also home to one of the densest concentration of Bald Eagles in Eastern North America. They are your constant companions throughout the day perched in tall trees along the shoreline and soaring high above. There are three breeding pairs nearby and you can expect to wake up to the sound of young eagles crying for breakfast.

To learn more send us an email call us at 1-877-888-3020 or click here at Reservations

Here's what others have to say about Coastal Safari:
"...What can we say to our hosts? You shared not just an extraordinary landscape, a powerful history, and a long standing way of life - you share parts of your life. I walk or paddle away considerably richer." Dr. Robert Vonderosten
" .... Our time spent with Coastal Safari was the highlight of our entire trip to Newfoundland.... you seem to have found the perfect mix of rustic and comfort.....I think what was most important was that we felt like we had escaped from the quaint tourist stuff and found a few days of substance. I particularly enjoyed the hike through the abandoned communities. The image of Newfoundland presented to the rest of Canada bears little resemblance to the real thing, and I really appreciated our glimpses into what it must have been like through the years.

I could go on and on. I just wanted to say thanks and tell you that I think you're doing great work. Shane Miskin


"...Eric, Nick and I were all very impressed with the
safari and greatly appreciate all the hard work you both put in to giving us all such a good time. A very big Thank You to Anna for the day trips and researching all the caribou trails for us to hike along and to Owen for providing such wonderful delicacies - we try to tell people how good the food was but you know that they will never really know unless they try it for themselves! Most people have heard of Sushi but I have yet to meet anyone who has heard of Sashimi so it is nice to educate people too. Here is the extreme ironing link for you: http://www.extremeironing.com/
With happy memories and fond regards
Jo and Eric Baker
From globeandmail.com, Saturday, August 31, 2002
NOTICED: NEWFOUNDCHIC
KAREN von HAHN: Just four years ago, Anna Buffinga started up a company called Coastal Safari, which picks up tourists from the St. John's airport and whisks them to a glam wilderness campsite a la Out of Africa at a remote outport on the south coast. Her clientele of urban professionals, who find themselves surrounded by whales, eagles and caribou rather than a stack of phone messages, are delighted to find themselves so very far away. "People are looking for something off the beaten path," Buffinga says. "What we offer here is a total escape."

TRAVEL AND LEISURE MAGAZINE visited Coastal Safari in 2002; to read about their experience click here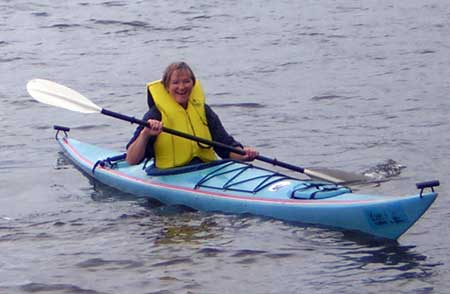 Hope to see you soon! Anna Myers, President, Newfoundland Coastal Safari
To learn more send us an email call us at 1-877-888-3020 or click here at Reservations

Iceberg off St. John's 31 May 2007.
Latest Newfoundland birding info: nf.birds
For information on ferry and airline schedules
St. John's Airport
Deer Lake Airport
Marine Atlantic Ferry from Nova Scotia to Newfoundland
Newfoundland Provincial ferries

The official Newfoundland government online road map
A really useful resource for visitors is The City of St. John's Tourism section which contains for example a list of all car rental companies in Newfoundland.
The government tourism website: newfoundlandandlabradortourism.com

If you visit the Witless Bay Ecological Reserve we can recommend the Whalewatcher B&B where you can see puffins whales and icebergs from your bedroom window!

To view realtime highway conditions and weather in Newfoundland and Labrador weather and highway cameras click here

The Newfoundland Fisheries Heritage Site

A You tube walk around St. John's

Mardon Erbland's great photographs of Newfoundland.

This is a young moose, there are a lot bigger ones out there.
A great video of young musicians playing traditional Newfoundland music

The marine weather forecast for the Coastal Safari Camp
Many of our guests go on to Trinity we recommend Campbell House a 4 star B&B.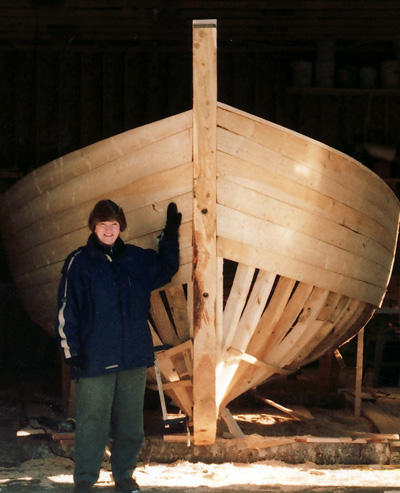 Anna with her new boat under construction.
Newfoundland South Coast Tide Tables

The Canadian Broadcasting System (CBC)
The newsblog of well known Nfld photo journalist Greg Locke
Newfoundland restaurant reviews by CBC TV personality Karl Wells.
The Whale Release and Stranding Group
Robert Parson's Newfoundland Shipwreck Page
The 2001 Fortune Bay Sea Monster.
Copyright © 2008 by Newfoundland Eco Adventure Tours Ltd. Any reproduction of the material in these web site documents is forbidden without express written consent from the owners. Images on this site by: Leona Ottenheimer, Bill Montevecchi, Jerry Colbert, Allie Cumming, Henny Buffinga, Anna Buffinga, Mona Shahwan El-Tahan, Bob Warren, Barb MsIsaac, Mark Shreve and Dave Clark.Our apologies to our guests who sent pictures but are not mentioned. You are not forgotten!